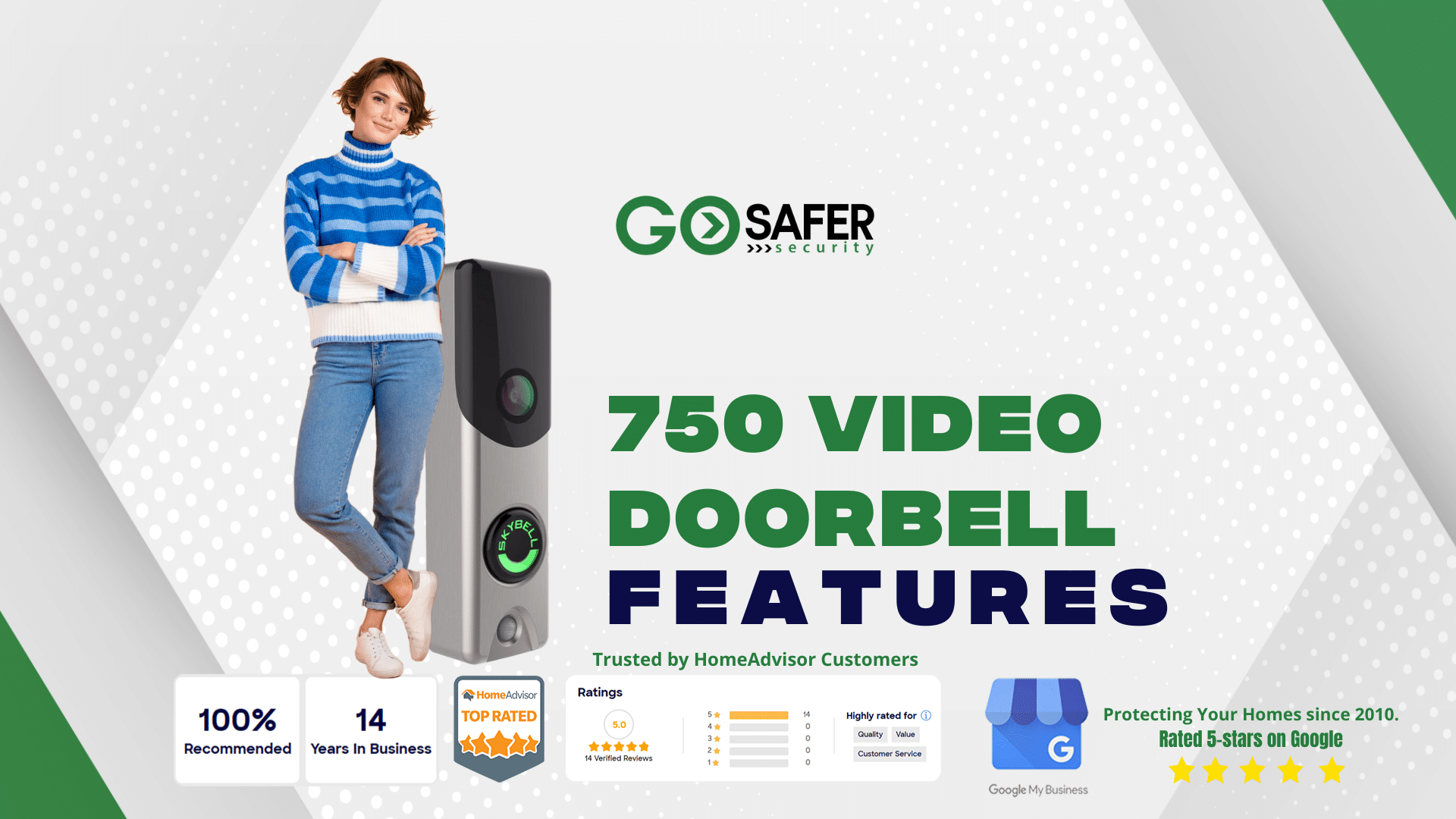 Are you tired of constantly worrying about the safety of your home when you're away? Do you often anxiously check your phone for updates on any suspicious activity outside your front door? Consider those days of uncertainty because we have found the perfect solution for you. Introducing the revolutionary 750 Video Doorbell (ADC-VDB750), equipped with the best features to effortlessly enhance the security of your house. In this blog post, we will delve into the incredible attributes of this cutting-edge device and explore why it is an absolute game-changer for homeowners. Prepare to bid farewell to your security concerns and embrace the new era of smart home protection.
750 Video Doorbell
Its incredible image quality sets the 750 Video Doorbell apart from other surveillance systems. The crystal-clear high-definition camera captures every detail, ensuring no movement goes unnoticed. Whether it's a package delivery, a neighbor's friendly visit, or even a potential intruder, you'll have a front-row view of everything outside your door. The advanced night vision feature guarantees that even in the darkest of nights, the 750 Video Doorbell will continue to provide a sharp and vivid image, ensuring maximum security around the clock. It's like having your security guard available 24/7 without the hassle of hiring one!
But that's not all – the 750 Video Doorbell is also designed to adapt to your lifestyle and preferences. With its customizable motion detection settings, you can receive alerts for specific areas or zones that matter most to you. Whether monitoring your porch for package deliveries or keeping a close eye on your driveway, the device can be tailored to suit your needs. Moreover, its sleek and modern design makes it a seamless addition to any home, complementing aesthetics and functionality. Say goodbye to clunky and outdated security systems that stick out like a sore thumb; the 750 Video Doorbell effortlessly blends in while being a force to be reckoned with when it comes to safeguarding your home.
Intrigued? Are you curious about the 750 Video Doorbell and how it can transform your home's security? Well, you're in luck because we will dive deeper into this groundbreaking gadget's standout features in the rest of this blog post. From its seamless integration with smart home devices to its simple installation process, we will leave no stone unturned in exploring all aspects of this must-have security solution. So, fasten your seatbelts and prepare to be blown away by the endless possibilities the 750 Video Doorbell brings. Trust us, you won't want to miss out on this one.
The Best Features
Smooth Integration with the app: The 750 Video Doorbell integrates with a platform, providing an extensive house security system. Delight in the convenience of accessing live video feeds, receiving immediate notifications, and controlling your video doorbell from another location through an app.
Crystal Clear HD Video Quality: Experience unmatched video clearness with the 1080p HD video abilities of the ADC-VDB750. This guarantees you never miss out on a minute, enabling you to recognize visitors and monitor your doorstep with extraordinary accuracy.
Two-Way Audio Communication: The ADC-VDB750 allows you to interact with visitors through its integrated microphone and speaker system. Whether at home or away, this two-way audio function allows simple and easy interaction, enhancing security and comfort.
Intelligent Movement Detection and Notices: Feel confident that the ADC-VDB750 actively finds movement and immediately alerts your app. Customizable movement detection zones and level of sensitivity settings guarantee you only get signals for the relevant activity, eliminating unneeded interruptions.
Night Vision and Enhanced Low Light Efficiency: With its integrated infrared LEDs, the 750 Video Doorbell ensures exceptional presence even in low-light conditions. Feel secure understanding you can monitor your doorstep day and night– with clearness and accuracy.
Weather Condition Resistance and Toughness: Designed to stand up to different climate conditions, the ADC-VDB750 is durable and trusted. Whether it is rain, snow, or extreme temperatures, this video doorbell is constructed for lasting performance, guaranteeing your house is constantly safeguarded.
Simple Installation and User-Friendly Design: Installing the 750 Video Doorbell is straightforward, guaranteeing hassle-free combination into your existing security system. The properly designed interface and user-friendly setup process make it available for tech-savvy house owners and newbies.
Cloud Storage and Video Playback: Gain comfort with the alternative to storing video footage safely in the cloud, allowing you to keep tabs on your residential or commercial property and share essential video footage if needed.
Overall, the 750 Video Doorbell (ADC-VDB750)rises above the competition with its sophisticated features, seamless integration, exceptional video quality, and dependable efficiency. With this top-of-the-line option, you can raise the security and benefit of your home, offering unequaled assurance. Purchase the best- the ADC-VDB750- and experience the supreme video doorbell experience for your home.
Secure your properties with GoSafer Security!
The 750 Video Doorbell is a cordless doorbell cam that lets you see who is at your door and interact with them from inside your house. The doorbell has an integrated electronic camera that sends a signal to your smartphone when somebody rings the bell. You can then see who is at the door and speak to them through the doorbell's built-in speaker. You can likewise utilize the doorbell's video camera to take images and videos of visitors. The doorbell's battery life is long, so you can leave it outside without charging. The 750 Video Doorbell is easy to set up and requires no electrical wiring.
The 750 Video Doorbell is a wireless gadget that lets you see and hear who is at your door from your mobile phone. It has a 720p HD video camera, movement sensing unit, and night vision. A rechargeable battery powers the doorbell and sends you a push notification when movement is discovered.
The battery life of the 750 Video Doorbell is around 3 to 6 months, depending on the usage. The battery life can be prolonged by moderately adjusting the video quality and utilizing night vision.
Create a safer home with ease! Our guide walks you through installing SEM300 Vista Dual Path with Telus, ensuring advanced security and peace of mind.