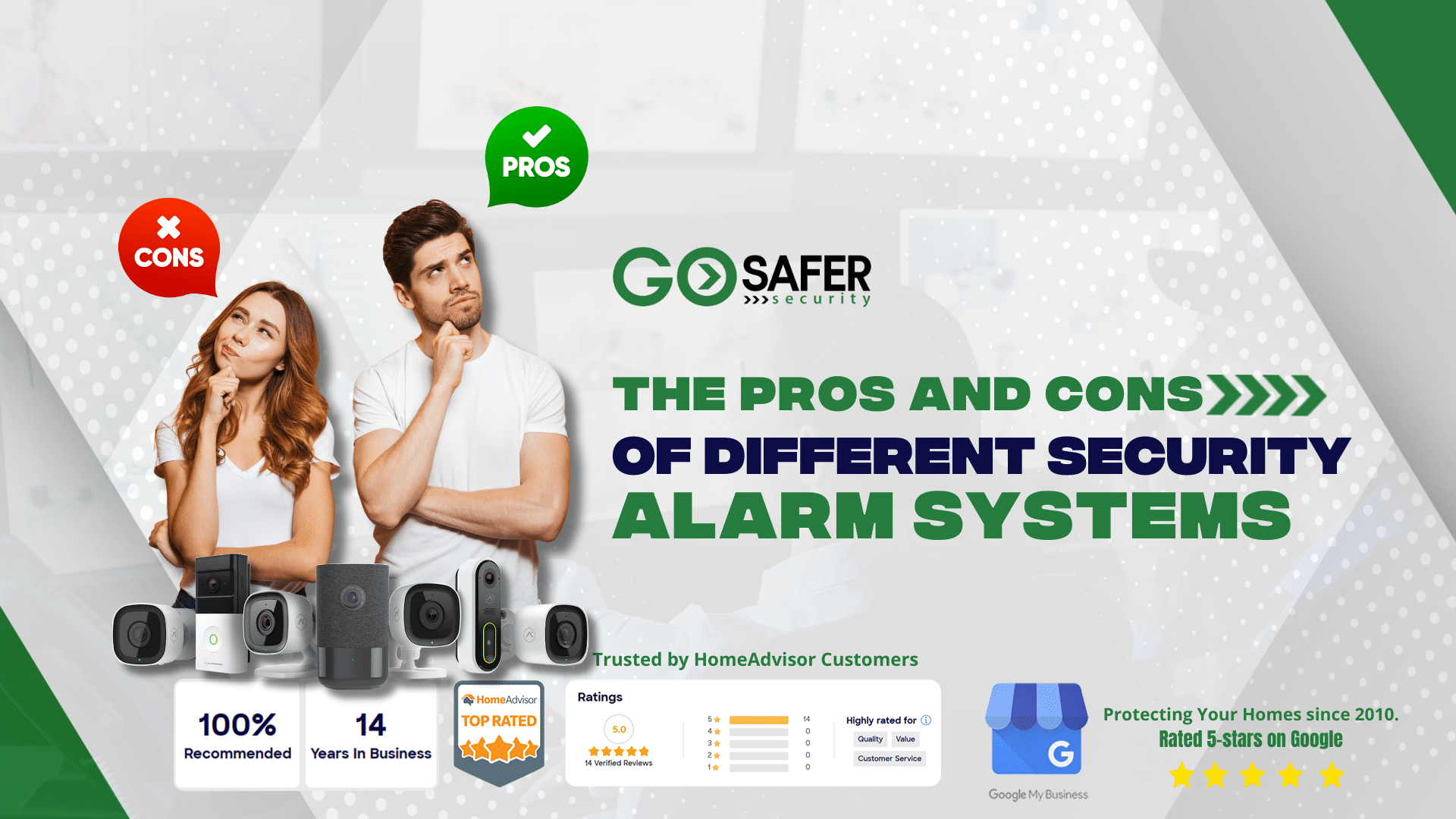 In an ever-evolving world where security concerns continue to rise, the role of technology in safeguarding our homes and businesses has become increasingly crucial. Security alarm systems have emerged as a popular choice for enhancing protection, deterring potential threats, and providing peace of mind. With advancements in technology, several security alarm system technologies are available on the market, each with its benefits and limitations. 
Security alarm systems have come a long way from the traditional lock-and-key approach. Modern technology has revolutionized how we secure our premises, offering various options. Whether you're a homeowner or a business owner, selecting the right security alarm system technology requires careful consideration of its advantages and disadvantages.
Wired Security Alarm Systems
Pros: One of the most significant advantages of wired security alarm systems is their reliability. These systems are hardwired into your property, eliminating signal interference or battery life concerns. They provide a constant connection to the monitoring station, ensuring quick response times in an emergency. Additionally, wired systems are less susceptible to hacking.
Cons: On the downside, installation of wired systems can be labor-intensive and may require drilling holes for wiring. This could lead to higher installation costs and potential damage to walls. Moreover, these systems offer limited flexibility regarding device placement and expansion.
Wireless Security Alarm Systems
Pros: Wireless security alarm systems offer easy installation and flexibility in device placement. They are ideal for rental properties or where wiring may not be feasible. These systems are often more cost-effective in terms of installation and can be easily expanded with additional devices.
Cons: Wireless systems may be vulnerable to signal interference, potentially causing false alarms or gaps in coverage. They also rely on batteries, which need regular replacement, and are more susceptible to hacking than wired systems.
Cellular Security Alarm Systems
Pros: Cellular security alarm systems utilize a cellular network to communicate with the monitoring station. This eliminates the need for landline or internet connectivity, ensuring a reliable connection even if other communication lines are compromised. They are also highly secure and less susceptible to hacking.
Cons: A potential drawback of cellular systems is the reliance on cellular coverage. The system's effectiveness may be compromised in weak or no signal areas. Monthly monitoring fees for cellular systems can also be higher than other options.
Smart Home Integration
Pros: Many modern security alarm systems offer smart home integration, allowing you to control and monitor your system remotely through a smartphone or other connected devices. This level of control adds convenience and flexibility to your security setup.
Cons: Smart home integration introduces potential cybersecurity risks. Hackers could access your security system and compromise your privacy if not properly secured. Regular software updates and strong password practices are essential to mitigate these risks.
Motion Sensors
Pros: Motion sensors detect movement within a designated area and can trigger an alarm. They effectively detect unauthorized intrusions and can be used indoors and outdoors.
Cons: Motion sensors can sometimes be triggered by pets or other non-threatening movements, leading to false alarms. Adjusting the sensitivity and proper placement can help mitigate this issue.
Door and Window Security Alarm Systems
Pros: Contacts placed on doors and windows trigger an alarm when the connection is broken, such as when a door or window is opened. They provide reliable perimeter protection and are relatively easy to install.
Cons: Door and window contacts are specific to entry points, and additional sensors may be required for comprehensive coverage. They may also be susceptible to tampering if not installed discreetly.
Video Surveillance
Pros: Video surveillance systems provide visual monitoring of your property. They act as a deterrent and offer the ability to record potential incidents. Modern systems offer high-definition video, night vision, and remote access to live feeds.
Cons: Video surveillance systems may raise privacy concerns, especially if they capture areas where individuals reasonably expect privacy. Additionally, the storage and management of video footage can be resource-intensive.
Environmental Sensors
Pros: Environmental sensors, such as smoke detectors and carbon monoxide detectors, enhance the safety of your premises by detecting potential hazards. They can trigger alarms and alert both occupants and authorities.
Cons: Environmental sensors are specialized and may not directly prevent unauthorized access. However, they are crucial to overall safety and can be integrated into comprehensive security systems.
Remote Monitoring
Pros: Remote monitoring services provide an added layer of protection by alerting you or a monitoring station when an alarm is triggered. This ensures a swift response, even if you're not on the premises.
Cons: Remote monitoring services typically involve monthly fees. Additionally, false alarms could potentially result in fines or a reduction in the credibility of the alarm system.
Each option has advantages and disadvantages in the realm of security alarm system technologies. The choice ultimately depends on your specific needs, preferences, and the level of security you require. Whether you opt for a wired system for its reliability, a wireless system for its flexibility, or a cellular system for its secure communication, it's essential to weigh the pros and cons carefully. By understanding the various technologies available and their implications, you can make an informed decision to enhance the safety and security of your property. Remember, the best security alarm system aligns seamlessly with your lifestyle and provides the peace of mind you deserve.
Call us now to know what's best for you and your property!
There are several ways to keep porch thieves out of your home. One option is to install motion sensor lights, which will turn on automatically when someone approaches the door and deter them from stealing anything. Another option is to install a high-quality deadbolt lock and chain. If these measures are insufficient to deter the thieves, you may consider getting a special alarm alerting you when someone approaches the door.
The most common signs of porch theft are a broken lock, damaged door frame, or changes in the appearance of your property. Immediately taking action is important if you notice any of these signs because porch theft can lead to more serious security issues. It's also a good idea to call the police or contact your local police department if you think you have been a porch theft victim.
Create a safer home with ease! Our guide walks you through installing SEM300 Vista Dual Path with Telus, ensuring advanced security and peace of mind.